How to Write an Amazing "About Us" Page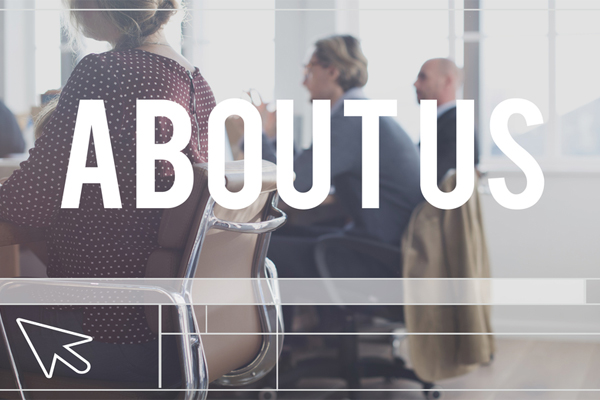 Did you know that the 'about' page is one of the most commonly visited pages on any business' website?
It's also one of the pages that many businesses and entrepreneurs procrastinate most about writing because it just seems too difficult. No one finds it easy to write about themselves at the best of times, let alone when you're writing for your business.
With that said, your 'about us' page provides an excellent opportunity for you to introduce yourself, sell your story, hook your reader and show them exactly what you're all about.
Get it right and you could pull that casual reader down the sales funnel and convert them into customers.
Here are our tips on how you can write an amazing 'about us' page without breaking a sweat and maximise its potential.
1. Start with a show grabber
Capture your visitor's attention immediately and encourage them to read more by starting with a strong sentence or two. Make sure it's packed with personality and tells them more about you, your business and what they need to know.
Consider adding information here such as who you are, why you started and what problem you hoped to address. Share how you solve this problem in your unique way, add any milestones, awards or 'wins' and include your vision for the future if you can.
2. Set the scene
Readers love to hear stories, even if they're about how businesses started. They help your business and your vision come to life, show them that you're a real person with personality and help them like and trust you more.
Start by telling your potential customer what the situation was in your industry before you started your business.
For example, did people love how easy it was to find new vegan recipes, but struggle to find recipes that actually tasted good? Were clients looking for a reliable personal assistant to join the team, but couldn't afford agencies and commissions?
Set the scene, tell the story.
3. Highlight the problem
Now that you've set the scene, you can build upon the problem that you've already introduced and explain why it was so difficult to solve.
What did people do to find a solution before you started your company? What problems did they face when they did so?
4. Your solution
Your client needs to hear how you solved this problem in your unique way.
What made you realise that you were the 'man for the job'? How did you make a difference that no one else could? What obstacles did you face along the way?
It can be helpful to review your USP (unique selling point) in your business plan and marketing materials if you're struggling to find inspiration.
5. Your wins
Your 'about' page is your opportunity to share the story of how you're succeeding. It's not enough to just talk about how good you are at this point- give social proof.
Share testimonials and customer success stories to back up your claims. If you can, include their name and contact details, a photo or for maximum credibility, a testimonial video.
6. What does the future hold?
What is your vision for the future? What mission or goals are you aiming towards? How do you want to grow?
Any information you can add here helps boost trust and demonstrate that you're a reliable company who is here for the long run.
7. Include a CTA
It's essential to add a call to action with every piece of digital marketing that you create. Your 'about us' page is certainly no difference.
Ask yourself, what do you want your visitors to do when they visit your about us page? Do you want them to sign up for your newsletter? Download a report? Follow you on social media?
Whatever it is, be sure to include a compelling CTA at the bottom of your page.
When you write your 'about' page, make sure it works for your business. Ensure it captures your visitor's attention, shares your story, your achievements and what you can offer and encourages your reader to take the next step so you can take your business to the next level.
Still struggling to write your 'about us' page? Don't worry- get in touch with us today and our team of talented copywriters can help bring your story to life.